September 15th, 2017
Cake Shop Baker to……
Rockstar Cakery, Olivia Maxwell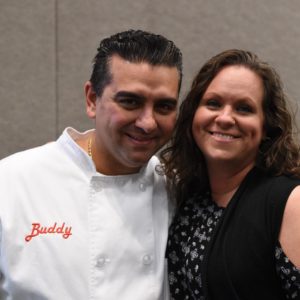 **Disclaimer, Olivia worked for us when we had two cupcake shop locations in Utah. She was our baker, manager and leader. She ran the cake shop like a ROCKSTAR.**
I have always been a person that can replicate art. Maybe not always come up with my own but when I see something I like, I say to myself "I can do that" and then I start to work breaking it down to figure out how to do it. Painting, sewing, pottery, culinary arts…. Anything "
fartsy
".
When I started having kids over a decade ago, I saw these really cute cakes that I wanted for their birthdays but at the time couldn't afford what it cost to have one, so I said to myself "I can do that". I started playing around and teaching myself by trial and error and learning what I could from the Internet. (Oddly enough this was before
Pinterest
) It was when I was employed in an office job a few years later that I found myself daydreaming more about food, desserts, cakes and experimenting with food then I did actually billing millions of dollars to corporate businesses.
Becoming a 'Cake Shop Baker'
That is when I said, "it's time to change jobs". So I quit my job and became a baker at the cake shop, One Sweet Slice, making about 1/3 of what I had been previously. But if it made me happy and feel fulfilled then it would be worth it. I finally loved my job which had honestly never happened before. I quickly began learning how to bake cake, cupcakes, eclairs, brownies, tarts and and more importantly started decorating cakes. Quickly I moved up to manager within a few short months and felt the universe was taking taking care of me because I had decided to follow my bliss. I
learned
so much during the following year that when One Sweet Slice decided to close in 2015, I didn't want to give up baking and cakes just yet.
Along with my assistant manager, we decided to venture into our own cake business. Success!!! I moved my dining table into the living room and filled the entire dinning space of my very tiny apartment with cupcake/cake pans, baking supplies and
Rockstar
Cakery
was born.
People often ask me how we came up with the name. Two reasons. One was Amanda and I lived off of
Rockstar
energy drinks during our time at One Sweet Slice and thereafter because we both had full time jobs and starting the business. And the second was one of the owners, Janell, of One Sweet Slice always called us '
rockstars'
. It kinda stuck with us, and being the sentimental softies we were, we went with it.
After baking and cupcaking for some time, Amanda decided to move on and focus on her family. Deep down I wanted to see how far this "cake thing" would take me. It has been a wild and amazing ride. Every month calls keep coming in for cakes or cupcakes and my experience grows. While it has been slow sometimes getting the business going as far as marketing (I worked full time for another company and had three little boys) I haven't given up and its beginning to truly pay off. Rockstar Cakery is now a preferred vendor for multiple high-end client in the Salt Lake Valley and have been feature in local wedding magazines. I have been able to quit my full time job and dedicate myself solely to cakes (HUGE SUCCESS for me!!).
The Challenge of Cake
Opening my cakery has been the scariest, hardest, most thrilling and challenging thing I have ever done (I am not a risk taker AT ALL) but I keep taking one step at a time, trusting that it's a forward step, and making sure to stop every once in a while and look at where I am so I can enjoy the view. That is what currently keeps me going and I'll keep going with it until I see something else and say "I can do that". I am now my own cake shop baker :).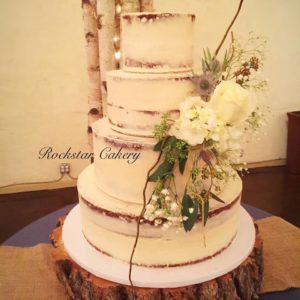 Contact Olivia:
email: rockstarcakery@gmail.com
phone: 801-604-3938
location: Cottonwood Heights, Utah
Other Baker Spotlights:
To spotlight your cake shop, please submit your contact information
here
.